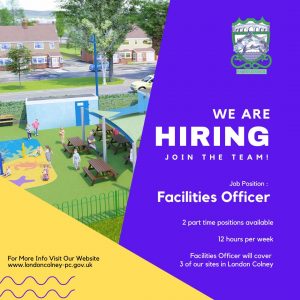 We have several vacancies to work at the parish council, including the appointment of a Deputy Clerk and two Facilities Officers.
The role of the Deputy Clerk is a new position, and will include the organisation of all the parish council's events, as well as supporting the environmental projects the parish council are involved in.  It's a full time role, with flexible working and three days based in the office.  We will consider part time hours.
The two Facilities Officers will job share and will be responsible for the day to day management of the parish council's facilities including the community centre and sports pavilions.  There are two positions:  Tuesday – Friday and Saturday – Monday. You will be required to cover for holiday/sickness for the other position.  
More information can be found below:
Facilities Officers Recruitment Pack