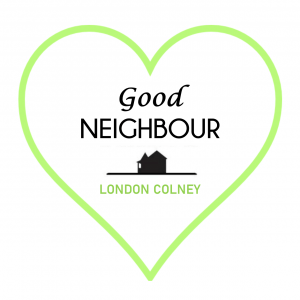 ARE YOU IN ISOLATION?
We Can help!
Good Neighbour Scheme
The coronavirus means that many people in London Colney are at risk  and may be unable to  get out and about. London Colney Parish Council has set up a good neighbour scheme.
WE CAN HELP WITH…
Shopping
Posting mail
A friendly Phone call
Prescription collections
If you need help while you are isolated call the Good Neighbour Scheme on 01727 261104 (Monday to Friday between 10am -1pm)
We will match you with a volunteer who lives locally to you, in your road or a neighbouring road.
You both will be given each other's name, address and contact number.
You will both be issued a password unique to your pairing, so you know the person calling is the person they say they are.
Your volunteer will contact you to help within 24 hours of your call to see what support you need.
Your volunteer will do their best to help you but please bear in mind they will have their own families and commitments they are also accommodating.
Volunteers support is not an emergency service and is not 24 hours, seven days a week.
OUR VOLUNTEERS
All our volunteers are local residents who have volunteered their services to the Good Neighbour Scheme co-ordinated by the London Colney Parish Council.
All Volunteers will need to provide ID and full contact and address details to the Parish Council.
Volunteers may not be police checked therefore it is important that our safeguarding parameters are followed by volunteers and those in isolation.
HOW TO PREVENT SPREADING THE VIRUS
To keep you safe from contracting the virus, you should not come into physical contact with your volunteer.
Coronavirus is contagious, please take every precaution to protect yourself when helping and receiving help.
Wash your hands regularly.
Items for collection should be left outside the front door at an agreed time. Your volunteer will call 5 minutes ahead of collection time.
When dropping off items your volunteer will call to let you know your delivery is outside. Never have physical contact with your volunteer.
KEEP SAFE
For shopping – if you provide cash for your shopping, no more than £30 should be given to your volunteer at any one time.
NEVER give you bank card to your volunteer.
NEVER give you pin number to your volunteer.
If you are unable to pay by cash for your shopping we have a card payment process in place via the Parish Council. You will be able to pay by card over the telephone for your shopping. The Parish Council will reimburse your volunteer the value of your shopping.
Please only ask your volunteer to help with Shopping, Prescription collections, Posting mail, A friendly Phone call.
Volunteers should not come in to your property.
Please make sure you do not give unnecessary personal information to your volunteer.