Pilgrimage to Chantry Island
tue22jun6:00 pmtue7:30 pmPilgrimage to Chantry Island
Event Details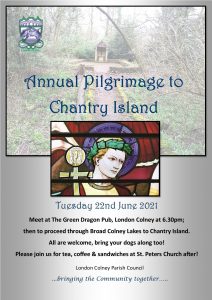 Annual Pilgrimage to Chantry Island – all are welcome, a great walk and learn about the historic background of our village!
Meet outside the Green Dragon Pub on the green at 6:30pm. We will then proceed on the footpath through Broad Colney Lakes to Chantry Island. Everyone welcome, bring your dogs along too!
Chantry Island is a small patch of land surrounded by a small dyke, giving the impression that it is an Island, it is located in the grounds of the All Saints Pastoral centre.
Chantry Island is famous as being the arrest place of Saint Alban, the first Christian Martyr in the United Kingdom. Saint Alban had been recently converted by a priest. Chantry Island was, and is, heavily wooded, and provided an ideal location for clandestine meetings of local Christians, since should the local Roman Authorities appear, it provided much cover for the Christians to scatter and hide. On the occasion of his arrest, a group of Christians were meeting when they got word of the impending arrival of Roman Soldiers. Saint Alban offered to swap clothes with the priest so that he himself, and not the priest, would be arrested. Saint Alban was arrested, marched to nearby Verulamium, where he would later be martyred. Verulamium was later renamed Saint Albans in his honor.
Chantry Island became a site of pilgrimage, and there exists to this day the remains of a chapel built on the site to commemorate Saint Alban's arrest.
After you are welcome to join us for a cup of tea or coffee!
more
Time

(Tuesday) 6:00 pm - 7:30 pm